When a software development company, focused on internet advertising, decides to try out both online and offline advertising, it's quite a challenge. As they say: the shoemaker's children go barefoot. And when it comes to self-promotion, we have some reserves. In the following text, you will learn about these reserves and what we have gone through during this arduous journey. And who knows, you may learn something that can help you in a similar endeavor.
Campaign planning
Our goal was to raise awareness of us as an employer – STRÖER labs. If you ask about the car company in Mladá Boleslav, everyone will tell you ŠKODA. A similar connection, specifically between IT and Opava/Ostrava, is our dream, and this campaign was one of the first of many steps to make it happen. Defining the goal was the first obstacle. After a lengthy discussion, we realized that we didn't want a pure recruitment campaign where we would promote specific positions we were looking for, but that we wanted to promote the company with the long-term goal of becoming known as an IT employer in Opava and Ostrava.
So we have a goal – let's do it! In August, we started preparations for the campaign, which we had planned to take place in October. We told ourselves we had plenty of time… But, It took us quite a bit of time to come up with the design of the ad, probably the biggest chunk. We had to decide what text to use, what colors to choose, an image, or just a clean background…
We decided to try Facebook advertising and Google Ads. The first step, of course, was to come up with graphics including the text for all the banner ads. As is our custom, we sat in a wider circle and started thinking first about what exactly do we want to communicate and then in what form. For the offline campaign, we chose a banner with a QR code, which we thought was an interesting element. In the end, we came up with these banners:
As the next thing, we had to create a landing page, where the user ends up after scanning the QR code or entering a web address placed on a billboard, or after clicking on an online advertisement. We conceived the visual appearance of the landing page in the same way as the banner graphics so that the users who arrive here feel that they are in the right place. The landing page looked like this: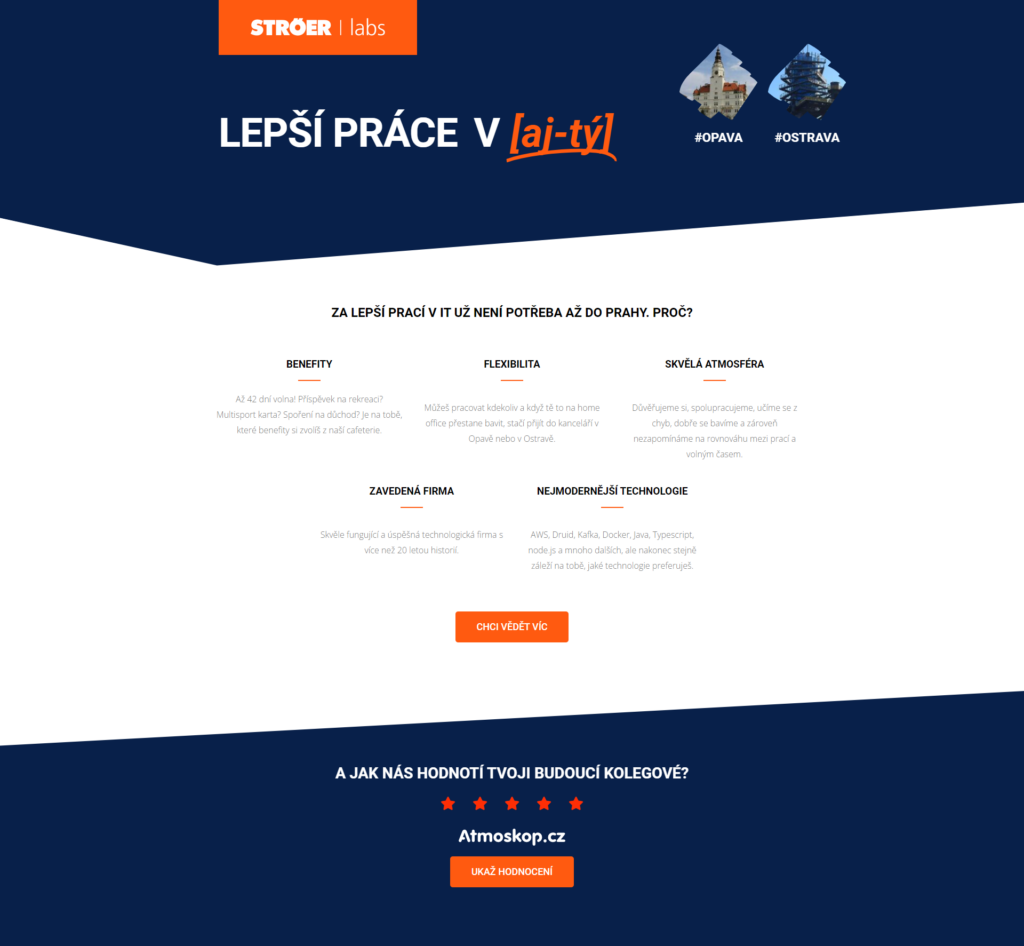 Campaign implementation
We did not use the help of any advertising or media agency to set up our advertising campaigns. We wanted to try it all ourselves. We didn't have any experience with it, neither with Google nor with Facebook, but we didn't lack enthusiasm ? First we set up the Facebook ad – it's a simple process of creating an ad, targeting it, setting a budget, and then just running it. Then came the slightly more complicated Google Ads, but with the help of the wizard we got the setup down. Unfortunately, there are some things we still don't really understand (like why 3 of the 6 banners are approved and the others are not, even though they only differ in size). On top of that, the manual is in English and there is zero customer support. Somehow, we struggled with it. For a beginner, the setup was complicated, but not impossible. It would certainly be nice to have some initial training on how to operate these advertising systems and, more importantly, how to further manage or modify them to improve their effectiveness. So lesson number 1 – study it. That's also the reason why we try to make the user interface of our systems intuitive and clear.
For the offline areas, we decided to use citylights – advertising areas at tram and bus stops, billboards, LED panels and stickers on public lighting poles. This implementation part was much easier. We sent out inquiries and then chose the places for the advertisement.
And finally: on October 1st, we successfully launched our advertising campaign! We almost didn't need to interfere with the campaign during the campaign. We had to interfere just once when the campaign stopped on Google due to a low click-through rate.
Campaign evaluation
At the beginning of November, we started to evaluate the successes and failures of the campaign. This is where the second major problem arose because we had not set a measurable goal in advance. And we all know the goal is supposed to be SMART (thanks, lector Dan, maybe next time).
S – specific
M – measurable
A – acceptable
R – realistic
T – time-bound
The statistics showed us that the advertising campaign increased the traffic to our recruitment website by 264%. We had more visitors through online advertising than offline. QR codes were loaded in 1/3 of the offline visits. Beautiful stats, but the question of whether the awareness was raised or not remains unanswered. So, the brand awareness research followed: we decided to conduct a mini questionnaire survey in the cities of Opava and Ostrava in November. If we assume that nobody knew us and therefore, our awareness is zero, after the questionnaire survey we can already say that thanks to the advertising campaign our awareness has increased by 11%. We realize that building brand awareness is a years-long process, but we see this as a good start.
What lessons did we learn from this?
Set a SMART goal
Be skilled at setting up internet advertising
Make a time reserve when planning a campaign
Do test campaigns via Facebook and see which banner works best
Use other sources for offline advertising
Use Twitter and Linkedin for online advertising
What do you think? Have you come across our advertising?
Did you like this article?